HDCA/Hyodesoxycholic Acid Raw Powder 99% Purity
Product Name: Hyodesoxycholic Acid (HDCA)
Other Name: URSODEOXYCHOLIC ACID, (3alpha,5beta,7beta)-3,7-dihydroxycholan-24-oic acid, (3α,5β,7β)-3,7-dihydroxycholan-24-oic acid, 3alpha,7beta-Dihydroxy-5beta-cholan-24-oic acid, Acide ursodesoxycholique, Acido ursodeossicolico, Acido ursodeoxicolico, Acidum ursodeoxycholicum, UDCA, Ursodeoxycholate, Ursodeoxycholic acid, Ursodiol
CAS No.: 83-49-8
Other Names: HDCA
MF: C24H40O4
Grade Standard: Medicine Grade
Purity: 99% min
Appearance: White or almost white powder
[Specs] NLT 99%, Food Grade, Pharmaceutical Grade
Capacity: 1000kgs per month
Place of Origin: China Yinherb-Lab
Packing: As per client's requirements
Minimum Order Quantity: 1kg
Storage: Store in cool & dry place, Keep away from strong light and heat.
What is
HDCA/Hyodesoxycholic Acid
?
It is a cholic acid extracted from pig bile, which can inhibit the formation of bile acid and dissolve fat, reduce blood cholesterol and triglycerides. It is suitable for type a or hyperlipidemia, atherosclerosis, Pertussis, diphtheria, staphylococcus, etc. have a certain antibacterial effect, can also be used as anti-inflammatory drugs, treatment of chronic bronchitis, pediatric viral upper respiratory tract inflammation and so on.
HDCA/Hyodesoxycholic Acid
Benefits
1.Hyodeoxycholic acid, also known as 3α,6α-Dihydroxy-5β-cholan-24-oic acid or HDCA, is a secondary bile acid, one of the metabolic byproducts of intestinal bacteria. It differs from deoxycholic acid in that the 6α-hydroxyl is in the 12 position in the former. The 6α-hydroxyl group makes HDCA a hydrophilic acid, a property it shares with hyocholic acid.
2.HDCA is present in mammalian species in different proportions. It is the main acid constituent of hog bile, and for this reason it was used industrially as precursor for steroid synthesis before total synthesis became practical.
3. It can lower blood cholesterol, treat and prevent coronary heart disease, hypertension, etc.
HDCA/Hyodesoxycholic Acid Application
(1) Decrease the cholesterol of blood serum and triglycerides to prevent and treat coronary heart disease or hypertension,etc;
(2) Treat chronic bronchitis and virally upper respiratory tract infection in Children as antiphlogistic drug;
(3) Treat I a or I b type hyperlipidemia and atherosclerosis;
(4) Suppress the growth of bordetella pertussis, Corynebacterium diphtheriae and staphylococcus aureus effectively,etc;
(5) Stimulate choleresis to dilute bile to treat cholangitis, cholecystitis,
cholelithiasis, and other obstructive cholestasis;
(6) Facilitate the katabolism of fat in intestinal tract and the absorption of fat-soluble vitamins to treat dyspepsia which caused by hepatobiliary disease.
TUDCA series related products
| | |
| --- | --- |
| Product name | CAS Number |
| | 83-44-3 |
| | 302-95-4 |
| | 14605-22-2 |
| | 474-25-9 |
| | 83-49-8 |
| | 201-483-2 |
HDCA/Hyodesoxycholic Acid
HPLC &NMR Test report by Yinherb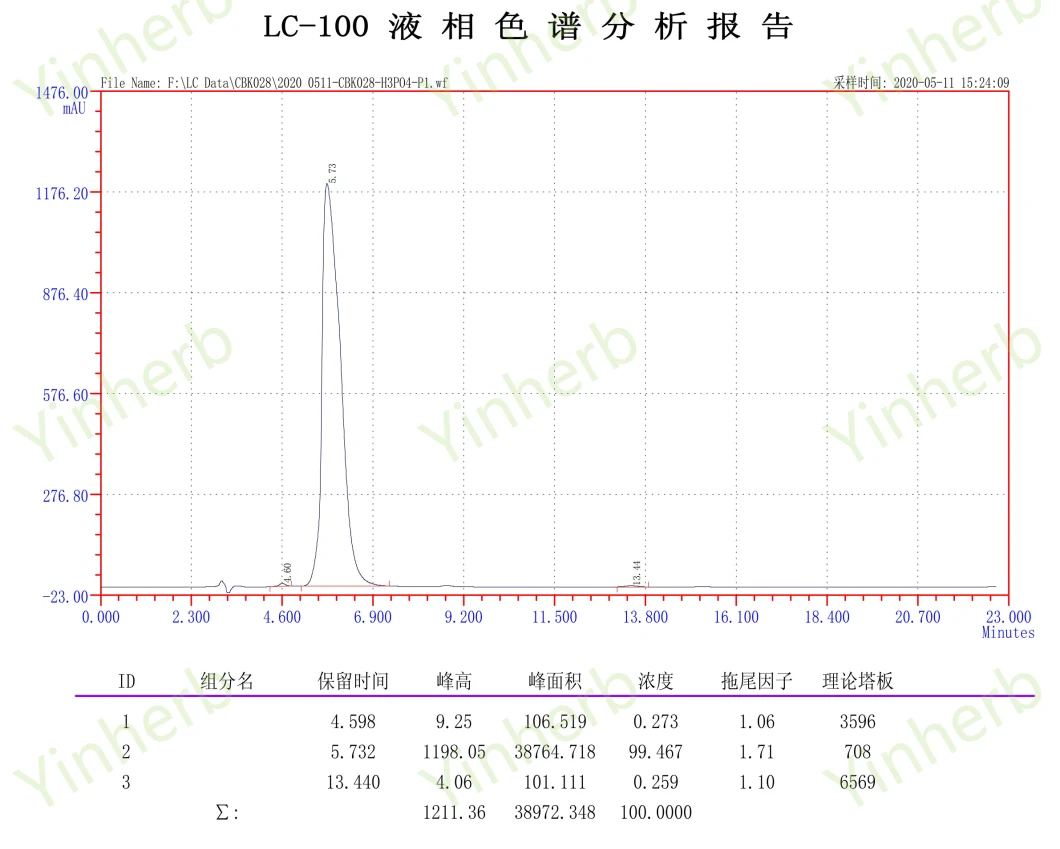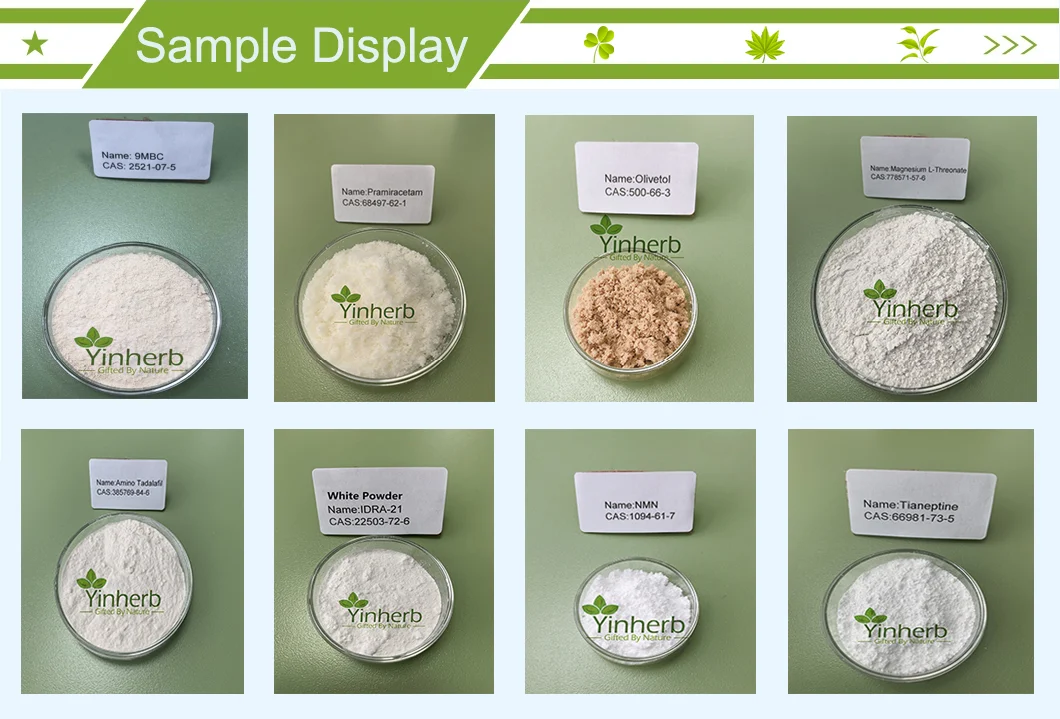 | | | |
| --- | --- | --- |
| Name | CAS No. | Purity |
| Magnesium Taurate | 334824-43-0 | 98.0% |
| | 69353-21-5 | 98.0% |
| | 66981-73-5 | 99.0% |
| | 30123-17-2 | 99.0% |
| | 1224690-84-9 | 99.0% |
| | 2521/7/5 | 99.0% |
| | 138112-76-2 | 99.0% |
| 98% | 27113-22-0 | 98% Oil form |
| | 27113-22-0 | 50% Powder form |
| | 23111-00-4 | 98.0% |
| | 1094-61-7 | 98.0% |
| | 53-84-9 | 98.0% |
| | 157115-85-0 | 99.0% |
| | 7491-74-9 | 99.0% |
| | 1078-21-3 | 99.0% |
| | 135463-81-9 | 99.0% |
| | 6384-92-5 | 99.0% |
| | 28319-77-9 | 99% Powder form |
| | 28319-77-9 | 50% Graininess form |
| | 987-78-0 | 99.0% |
| | 51352-87-5 | 98.0% |
| | 1270138-41-4 | 99.0% |
| | 77472-71-0 | 99.0% |
| | 59587-09-6 | 98.0% |
| | 35084-48-1 | 98.0% |
| | 159752-10-0 | 99.0% |
| | 431579-34-9 | 99.0% |
| | 1208070-53-4 | 99.0% |
| | | 99.0% |
| | 56786-63-1 | 99.0% |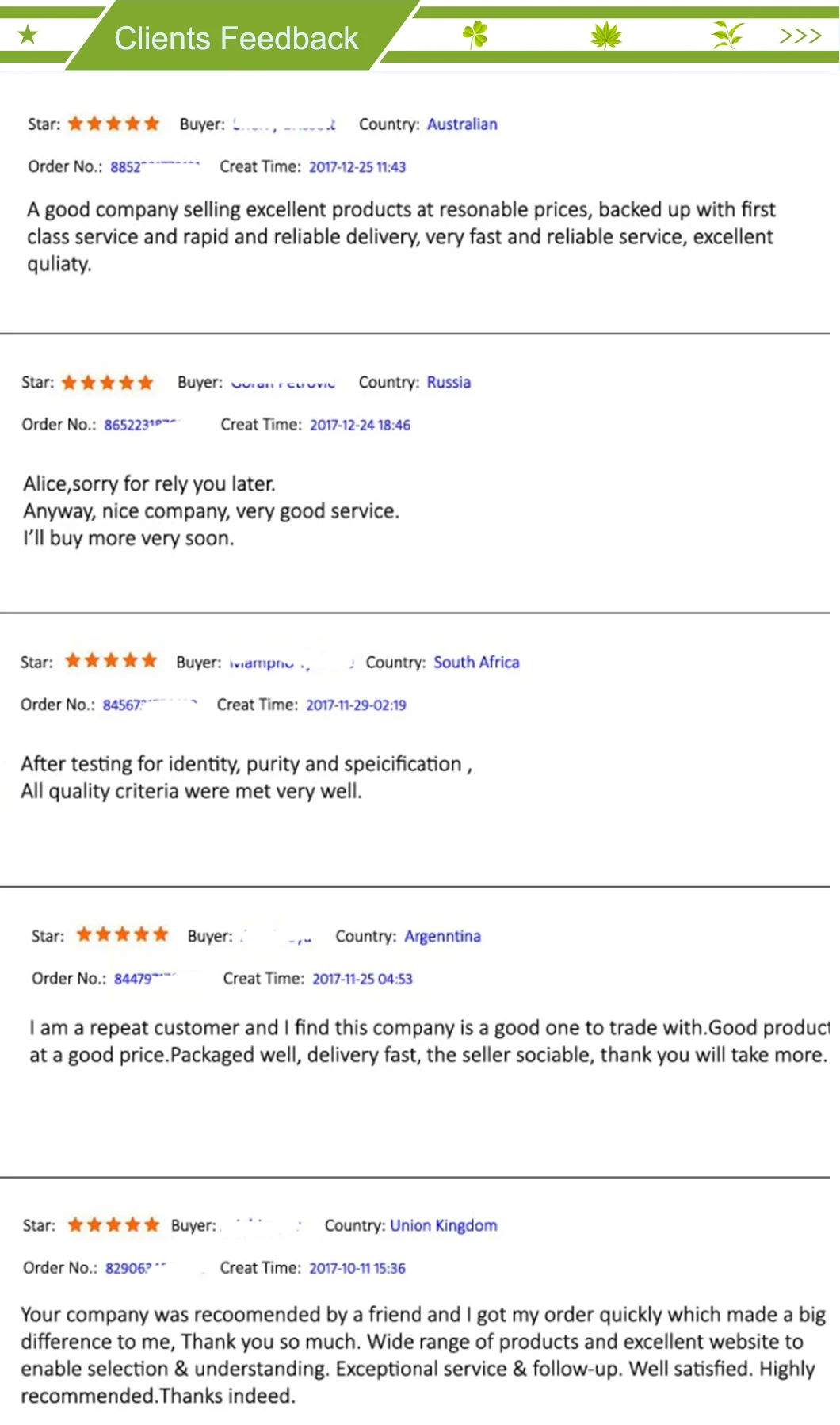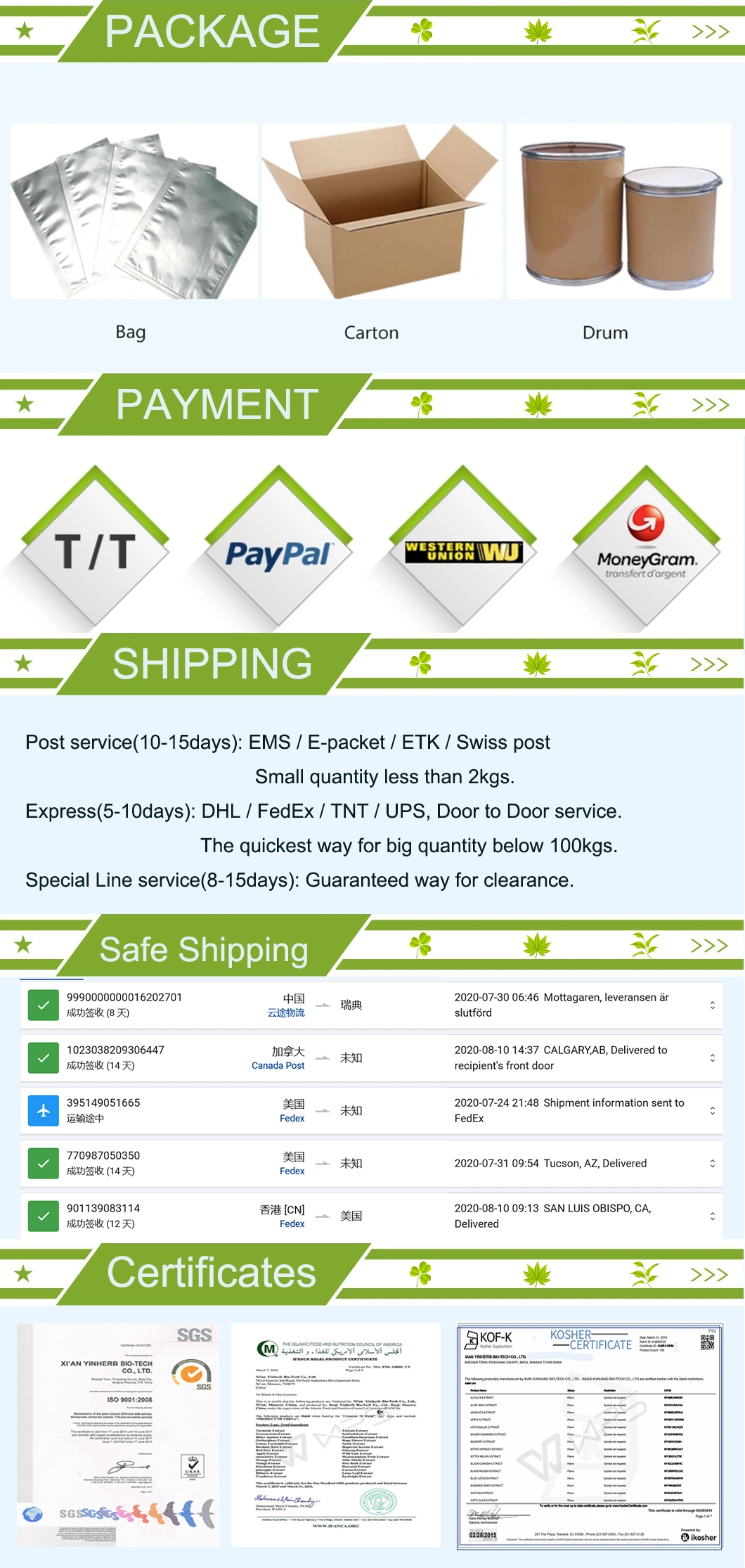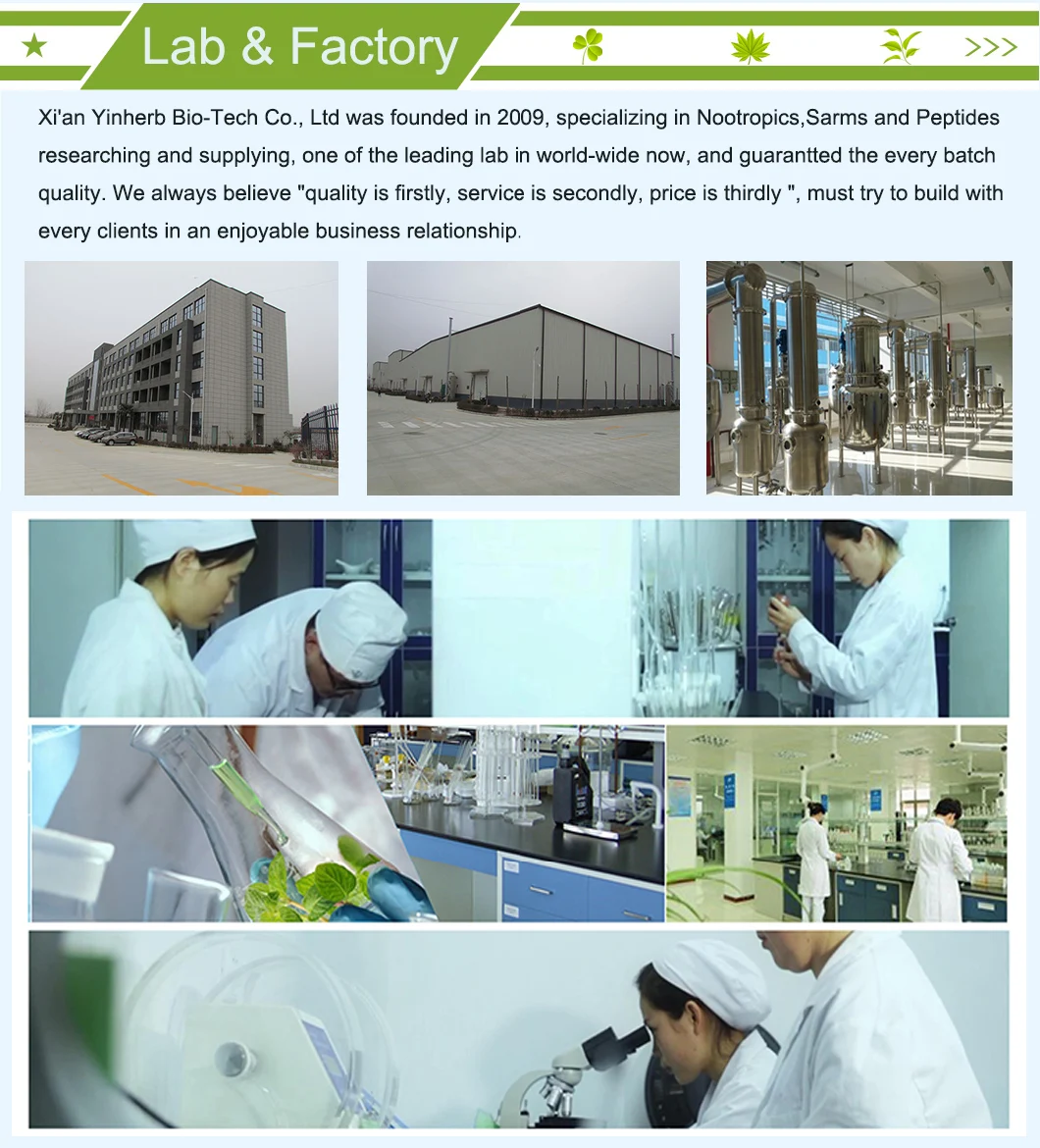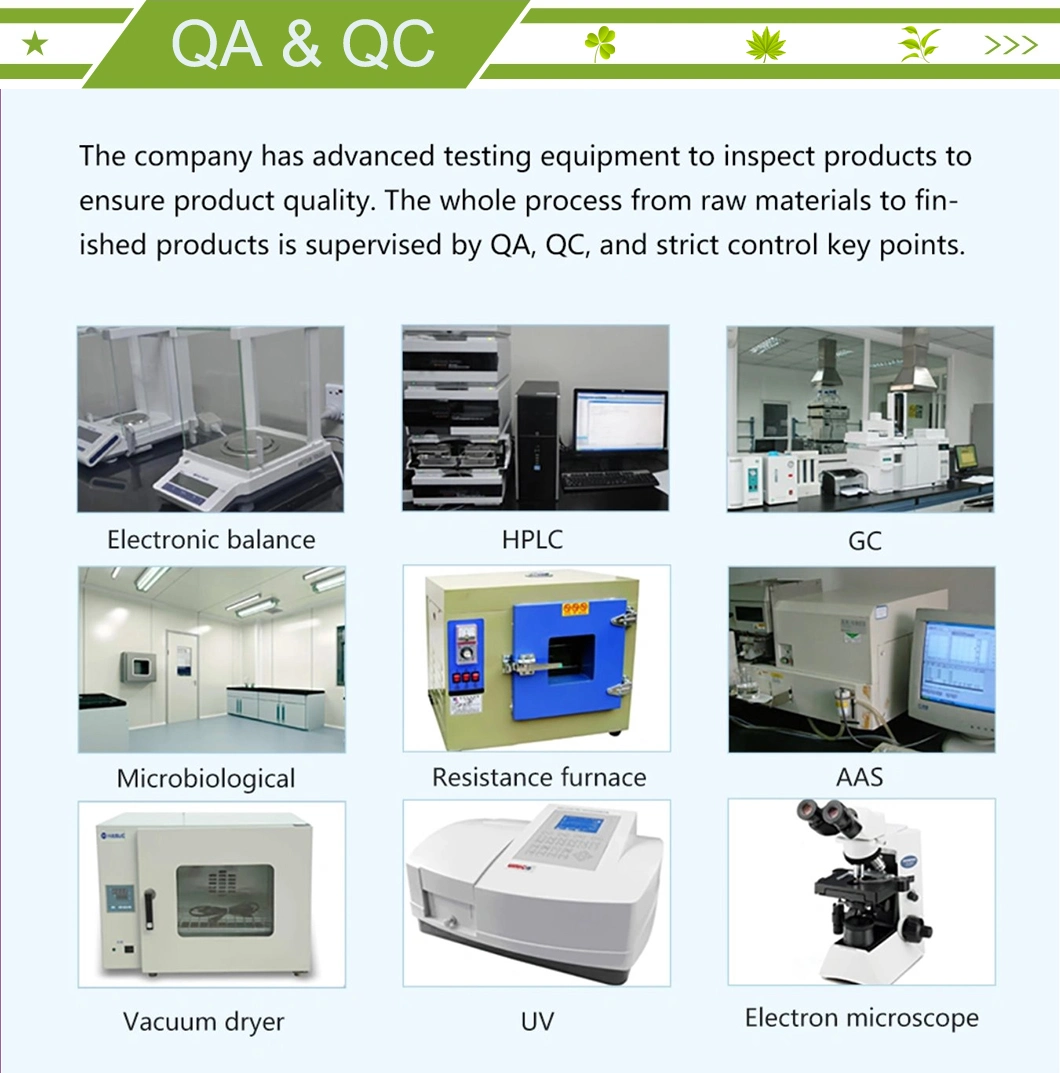 A: Yes, we can supply the free sample, but the shipping cost be paid by our customers.


A: Proforma invoice will be sent first after confirmation of order, enclosed our bank information. Payment by T/T, Western Union or Paypal or Escrow(Alibaba).


A:You can get free samples for some products,you only need to pay the shipping cost or arrange a courier to us and take the samples. You can send us your product specifications and requests,we will manufacture the products according to your requests.


A:Our MOQ is 1kg. But usually we accept less quantity such as 100g on the condition that sample charge is 100% paid.


A:Delivery lead time: About 3-5 days after payment confirmed. (Chinese holiday not included)


A:Different quantity has different discount.


A:First of all, our quality control will reduce the quality problem to near zero. If there is a real quality problem caused by us, we will send you free goods for replacement or refund your los